Negash Ali est un artiste aux multiples facettes, prêt à libérer sa fureur en Europe avec son EP 'The african dream'« Le Rêve Africain ».
Du haut de ses 23 ans, cet artiste érythréen qui a un contrat d'édition avec Warner / Chappell a sorti son premier album au Danemark et aux États-Unis par Orchard Musique en 2009 qui a été acclamé par la critique et a connu un succès commercial . L'album lui a également ouvert la voie à des spectacles à Los Angeles , Paris , Londres , Stockholm , Berlin et Le Caire en coopération avec Live Nation . Son deuxième album " GettoPOP " est sorti en 2012 sur le label de Negash nouvellement renommé GettoPOP Musique . L'album a été réuni une panoplie de critiques positives eta eu une nomination pour "Meilleur album urbain de l'année» .
En plus d'étre un rappeur talentueux et engagé Negash est également un compositeur. Il a écrit le titre de Jadakiss Ft . Chris Brown – "Get Twisted " , prévu d' être le 1er single du prochain album de Jadakiss . Depuis, il a travaillé avec des artistes tels que Bob Sinclar , Lucas Secon , Coco Malaika de Quadron , Outlandish , SX , dsign , fournisseurs , Mise au point , Viktoria Hansen , Knightstarr et bien d'autres.
Il a également ouvert fait la première partie de Ne-Yo , Wiz Khalifa , Nas, Damian Marley et Dom Kennedy pour ses deux spectacles effectué à Birmingham et à Londres.
C'est avec un grand plaisir que nous avons eu l'occasion de rencontré Negash, qui malgré son emploi du temps chargé a pris le temps de voir notre équipe à Londres.
Negash Ali is a multitask artist , ready to unleash his rage in Europe with his EP 'The african dream " .
From its 23 years, the Eritrean artist who has a publishing deal with Warner / Chappell released his first album in Denmark and the United States by Orchard Music in 2009 which was critically acclaimed and was a success. The album paved the way for shows in Los Angeles, Paris , London , Stockholm, Berlin and Cairo in cooperation with Live Nation.
His second album " GettoPOP " was released in 2012 on the label Negash newly renamed GettoPOP Music . The album met an array of positive reviews and has been nominated for "Best Urban Album of the Year ."
In addition to be a talented and committed rapper Negash is also a composer . He wrote for  Jadakiss Ft . Chris Brown – "Get Twisted" , planned to be the first single of Jadakiss forthcoming album. Since then he has worked with artists such as Bob Sinclar , Lucas Secon , Coco Malaika of Quadron , Outlandish , SX, dsign, suppliers, Focus, Viktoria Hansen, Knightstarr and many others.
He also opened for Ne-Yo, Wiz Khalifa, Nas , Damian Marley and Dom Kennedy for his two performances in Birmingham and London.
It is with a great pleasure that we had the opportunity to meet Negash, who despite his busy schedule took the time to meet our team in London.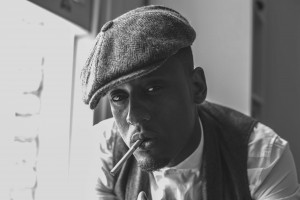 1/ Can you tell us more about your musical background?
Fr: J'ai commencé avec le gangsta rap west coast, puis je passé de la country au hip hop, du hip hop à la soul, de la soul à l'électro. Je suis plutot eclectique.
Eng: I started out with west coast gangsta rap, moved on with country to hip hop, from hip hop to soul, from soul to electro and then I started to embrace of everything. I became quite eclectic. (
2/Comment définirais-tu ton rap? / How would you define your rap?  
Fr: Beaucoup d'histoires et de confessions parfois vécu par moi-même. Egalement assez agressif mais toujours très technique. Donc je dirais, Technique, avec beaucoup d'émotion et d'histoires.
Eng: I would say lot of story telling. Very confessional stylish. Often telling stories about myself. Quite agressif but still very technical. Technical, a lot of emotion and story telling.
3/ Décris toi en 3 mots / Describe yourself in 3 words
Fr: Ooooh je vais me flatter (rires). Je dirais dynamique,
Eng: Ooooh I am about to flattered myself (rires). I would say dynamicDynamic. Thoughful. Diverse
4/ Ta vision sur la musique en Angleterre et à l'étranger? / Your vision of the music in uk and abroad?
Fr: Une des principale raison pour laquelle je suis venu ici est la qualité. Le niveau de la musique britannique est, si pas le meilleur, l'une des meilleurs dans le monde. C'est comme si les Britanniques sont plus open en ce concerne ce qu'ils acceptent. Pas besoin d'ètre au top 40 ou d'une grande scène. Il y a de la place pour tout le monde. Je vois aussi beaucoup de jeunes artistes comme Sam Smith, Disclosure, Ella Eyre. Il ya tellement de nouvelles personnes à venir maintenant qui vont être connu à l' international. Ils seront la crème de la crème de la musique en provenance du Royaume-Uni. Comme Labrinth est un monstre! Pour moi, le Royaume-Uni est avant-gardiste depuis bien longtemps sachant qu'il ya beaucoup d'acceptation pour un genre musical plus large ce qui permet la création de bonne musique.
Eng: One of the main reason I came here is because the quality is so high. The level of the British music is if not the best one of the best in the world . It feels like British people are more wide in  what they accept. It doesn't have to be top 40, or from a big scene. There is a lot of place for niche. I also see a lot of young artist who are already making it like Sam Smith, Disclosure, Ella Eyre. There is so many new people coming now who are going to make it international. They're gonna be at the forefront of good music coming from the UK. Like Labrinth is a monster! So much great people. For me the UK have been at the forefront for a very long time considering that there is a lot of acceptance for a wider niche so lot of exciting music will be make as a consequence.
5/ D'où te viens ton inspiration quand tu écris et compose? / Where do you take inspiration from when you write and compose?
Fr: Principalement des émotions. Ca pourrait être l'émotion d'une conservation. C'est juste la façon dont vous en parlez. Parfois, on écoute quelque chose qui n'est même pas urbain et on se dit «waw» c'est une émotion que je n'ai jamais entendu dans la musique urbaine / contemporaine avant. C' est relié à moi. J'essaie d'aller de l'émotion à comment je peux la traduire et mettre mon point de vue dessus. Chaque chanson doit raconter une histoire. Il devrait avoir autant d'émotion dans une chanson que lorsque vous ne comprenez pas les mots vous êtes capable de comprendre son sens. C'est pourquoi certains enfants qui ne comprennent pas un mot d'anglais aiment la musique de Michael Jackson parce qu'ils comprennent l'émotion. Le charisme de l'artiste se connecte tout simplement. C'est l'aspect universel de la musique et c'est ce que j'essaie de développer.
Eng: I take primary from emotions. It could be the emotion of a conservation. It is just on the way you speak about it. Sometimes you listen to something that is not even urban and you are just like 'waw' this had just an emotion that I never heard in urban/contemporary music before.  It is connected to me.  I try to go from emotion to how I can translate it and put my perspective on it. Every song has to tell a story. It should have so much emotion in a song that if you don't understand the word you still get the sense of it. It is why some children who doesn't understand one word of English still like a shit out of Michael Jackson because they get the emotion. Like the charisma of the artist just connects. That's the universal aspect of the music and that's what I also try to capture hopefully one day.
6/ Quel est ton but avec ton Ep The African Dream? What is your goal with your EP the African Dream?
Fr: Il est une différence. L'une est que vous voyez beaucoup de rappeurs en ce moment qu cartonne. Comme Drake, J Cole est à son yop, Kendrick Lamar est à top. Donc, beaucoup de nouveaux rappeurs arrivent et apportent cette nouvelle excitation du rap que je n'ai pas du tout ressenti. J'étais un bon garçon et le rap était vu comme pas possible. Parce que je voyais ca très concurrentiel, personne ne booste vraiment l'autre. Cet été, quand j'ai commencé a travaillé sur le EP, c'est quand j'ai vraiment commencé à être inspirée de vraiment pour rapper à nouveau parce que j'écris quelques chansons et fait de la prod. Mais je voulais vraiment sentir que j'appartiend à c emilieu et le prouver aux gens donc j'ai sorti un travail qui serait indéniable, c'était mon objectif. Même si le EP est seulement composé de 4 chansons je voulais que les gens ai le même sentiment qu'ils écoutent un album après 4 chansons. Je voulais que le rythme soit qussi intense que possible pour obtenir la même expérience que quand ils entendent un album complet.
Eng: There is a few difference. One is you still see so many rappers right now that just click. Like Drake, J cole is at his best, Kendrick Lamar is at his best. So many new rappers are coming up and bring this new excitement to rap that I haven't felt for a minute. I was a good boy and rap was like I can't, I don't have that energy. Because I felt like it is competitive, nobody is really pushing each other. This summer when I started the EP out is when I really started getting inspired to really rap again because I do a lot of writing, some singing and some production. But I really wanted to be like you know I belong here and I want to prove that to people so I put it out by a work that would be undeniable so that  was a goal. Even if the EP is only 4 songs I wanted people to feel like they heard the album after 4 songs. I wanted the beat as intense as possible to get the same experience as when they hear a full album.
7/ Tu as écrit pour des artiste tels que CHris Brown, Bob Sinclar, Manu Dibongo.Collaboration de rêve? Si oui avec qui? You have written for artists like Chris Brown, Bob Sinclar, Manu Dibongo. Do you still have a dream collaboration? If yes with whom?
Fr: Je veux bosser avec Kanye! (rires) C'est mon but. C'est probablement le plus grand rêve. Dream également.b Je dirais ces deux la.
Eng: I want to get in with Kanye! (smile) That's my goal. That's probably the biggest one. Dream as well. I would take those two.
8/ Whats next?
Fr: La promotion de l'EP. Faire plsu de clip, plus de performance. Mon prochain clip sortira dans deux mois. Je travaille dèjà sur de nouveaux projets et pense sortir un autre EP cet automne. Mais la priorité c'est de pousser le EP.
Eng: Promoting this EP. Gotta shoot more videos, more shows. I have a next video coming in two month. I am already working on new work so I am thinking of releasing an EP in fall. But the priority is pushing this.